State Department of Agriculture Program: West Virginia
State Department of California
California Grown: California Grown is all about connecting Californians with the people who grow and produce their food. It really is that simple. Farmers have a lot of stories to tell and want to welcome you into their fields so you can really understand where your food comes from – and how important you are to the process.
http://www.californiagrown.org/
California Made: CA Made is a new state labeling program designed to encourage consumer product awareness and to promote the purchase of products manufactured in California. The program is administered by the Governor's Office of Business and Economic Development (GO-Biz).
http://camade.ca.gov/
Core Customers:  Retail
California is home to a number of important customers who are ideal to look at for distribution.  These include Petco, Road Runner Sports, Big Five Sporting Goods, Williams Sonoma, Costco, Grocery Outlet, 99 Only, Bevmo, Cost Plus World Markets, Fry's Electronics, West Marine, 24 Hour Fitness, Sport Chalet, AM/PM, Fallas Paredes, American Golf, Nutri Shops, Tony's Fine Foods, DPI, Core-Mark, LA Fitness, Sephora, Old Navy, WSS Shoe Stores, Curacao, Busy Body, Baby News, Armstrong Nurseries, The North Face, Patagonia, Planet Beauty, Max Muscle, Relax The Back, Pricesmart, Harbor Freight Tools, Stater Bros, Bristol Farms, Nutrition Express, Baron's, Gelson's, Unified Grocers, Rainbow Acres, Mother's Markets, Whole Foods So Cal, Whole Foods No Cal, Andronico's, Northgate Markets, Tawa, Real Goods, Elliot's, Clark's Nutrition, Jensen's, Fresh and Easy, KV Mart, Smart and Final, Kroger (Ralph's, Food 4 Less), Save Mart, Raley's, Albertson's, Jon's Markets, Super A Foods, Trader Joe's, Cardena's Markets, Safeway, Pitco, Seafood City, New Leaf Markets, Nature's Best, UNFI, Lassen's, Superior Frontier, Draeger's, Nijiya Markets, Nugget Markets and O'Brien's Markets.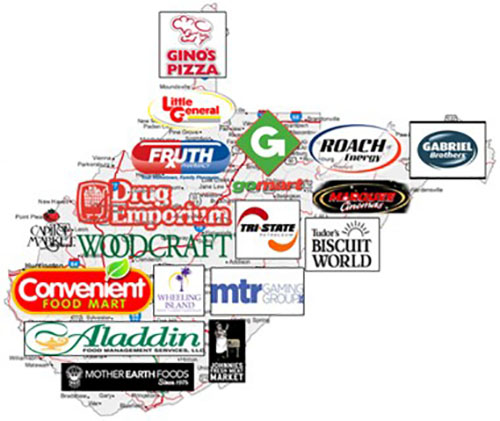 Core Customers:  Retail and Food Service
West Virginia is home to a number of important customers who are ideal to look at for distribution.  These include Go Mart, Gabriel Bros, Woodcraft Supply, Drug Emporium, Fruth Pharmacy, Farm Fresh, TriState Petroleum, Convenient Food Marts, Roach Energy, BFS Foods, Chico Enterprises, Little General Stores, Prima Marketing, U-Save Food Stores, Forth's Food, TWJ Markets, Shop n Save, Fas Check Markets, Facemire Foods, Marquee Cinemas, Tudor's Biscuit World, Gino's Pizza, Wheeling Island Gaming, Aladdin Food Mgmt Services, MTR Gaming and many others.